http://matadornetwork.com/trips/20-best-world-airports-to-be-stranded-in/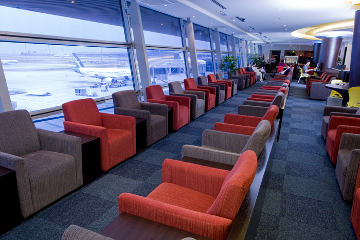 1. Zurich (ZRH)
I put Zurich first because it's got something none of the others do: hiking trails.
The grounds surrounding the airport and nearby villages comprise a nature preserve. There are 12 miles of paths, wildlife like rabbits and wild boar, and even a park ranger force.
The best part is travelers can rent bikes ($20/4 hours) or inline skates in the airport (upper lever, near Garage 2), store their baggage while they go out for a pedal, and then shower up ($15) before their flight.
2. Kuala Lumpur International (KUL)
The most unique facility here is the Plaza Premium Lounge, where a flat rate ($27/2 hours or $40/5 hours) gets you unlimited access to a range of services and entertainment.
The lounge includes a decked-out business center with secretarial assistance and a recreation area with massage chairs, movies, and free beer and coffee. It's open 24/7.
3. Auckland (AKL)
New Zealand's busiest airport seems most highly regarded for being an easy sleep spot.
Seats in the upstairs lounge are stretch-out-able, there's 24-hour snackage available, and announcements are made at minimal volume.
4. Singapore Changi (SIN)
A heavy hitter, Changi snagged first place in the 2010 Skytrax World Airport Awards. It mixes smooth accessibility with traveler-friendly amenities like free wifi, Xbox/Playstation consoles, and lounge chairs with built-in alarm clocks.
That last one helped earn it the 2010 Golden Pillow Award from sleepinginairports.com.
What does it for me, though, is the swimming pool and jacuzzi at the Ambassador Transit Hotel in Terminal 1. Non-guests get in for S$14 (~US$10).
5. Incheon International (ICN)
Seoul's international hub was dethroned by Changi this year after taking top prize in 2009.
It's easy to get around, clean, architecturally attractive, and equipped with in-transit loungers and play areas for kids. On top of that, rotating exhibits of cultural artifacts are presented by the Incheon International Airport Korean Culture Museum.
6. London Heathrow (LHR)
Wait, don't scroll down to leave an angry comment just yet!
I realize much of Heathrow is a dump. I mean, it was voted world's worst in 2009 by the Priority Pass program.
What we're talking about here is specifically Terminal 5, where those with large amounts of time and money to burn can do so with what Skytrax has voted best airport shopping.
7. Athens International (ATH)
Built in 2001, Athens still has that new-airport smell. Special features include green space next to the control tower and the latest in robotic security technology.
But what caught my attention is it's a "silent airport." Flight announcements aren't made over the PA, which means this might just be the best airport for a full night's sleep.
8. Carrasco International, Montevideo (MVD)
Carrasco's new terminal, opened this summer, is all glass and sleekness. Its design alone earns it a spot on this list.
Plus, with Argentina's reciprocity fee in force, Montevideo is set to become a more popular gateway to Buenos Aires, just across the river.
9. Kansai International (KIX)
Located on an artificial island in Osaka Bay, Kansai is just one terminal, but it's the longest terminal in the world (over a mile).
That makes for some nice, long, time-killing walks.
10. Amsterdam Schiphol (AMS)
The Rijksmuseum operates a branch in Schiphol, featuring Rembrandts and other iconic examples of Dutch art, and an airport library opened just a few months ago.
For something less cultural, try the casino.
Or, for those stuck here for a really long time, meet someone special, fall in love, and get married. The airport wedding planner is happy to assist.
Sorry, no coffeeshops at Schiphol.
11. Vancouver International (YVR)
Possibly the best in North America, Vancouver still comes up a little short compared to the rest of the globe, even with the waterfall stairs that usher international arrivals down to immigration.
But it rates highly among overnighters, and the onsite facilities at the Fairmont Hotel (gym, pool, showers) are available for $15.
12. Madrid-Barajas (MAD)
Madrid's new Terminal 4 is a trip.
It's one of the largest in use anywhere, there's lots of natural light, and the ceiling is composed of undulating wood slats.
Jives nicely with any jetlag that may be screwing with your head.
13. Munich (MUC)
There's a lot to choose from when you're in time-killing mode at Munich. Spa treatments, mini-golf, airport tours, and free movie screenings helped the facility grab #4 ranking in the 2010 Skytrax Awards.
My money's on the beer, though. Airbrau is the world's first (and only?) airport microbrewery, complete with open-air beer garden.
14. Dubai International (DXB)
Oh, Dubai. What are you trying to prove?
Terminal 3 is the largest building in the world, calculated by floor space. It would take quite the layover to explore it all.
15. Hong Kong International (HKG)
Here we have another frequent contender for top spot in the world.
Free wifi, a 3D movie theater, "world class" shopping, easy city access, and live entertainment all help make Hong Kong one of the best.
And, yeah, a 9-hole golf course. Damn.
16. Helsinki-Vantaa (HEL)
This year, Helsinki was awarded best in Northern Europe by Skytrax. Its friendly staff, traveler showers, and free wifi do the trick.
17. Narita International, Tokyo (NRT)
No matter how comfortable or quiet an airport terminal is, it can never compare to a hotel room.
Narita recognizes this and offers dayroom facilities (past security) that include shower and bed and can be rented by the hour.
18. Suvarnabhumi, Bangkok (BKK)
This up-and-coming facility broke the Skytrax "Top 10″ for the first time in 2010, partly thanks to the new rail line connecting it to downtown.
Amenities for the stranded include high-end hotels and a business lounge.
19. Austin-Bergstrom International (AUS)
Am I biased? Sure.
I'm American, after all, and it's hard to find something good to say about American airports. So if I'm going to, it might as well be about my home hub.
The best thing about Austin's airport is the concessions — they're all local. We've got Austin Java (no Starbucks), Thundercloud Subs (no Subway), and frequent live music. Go local.
20. Beijing Capital International (PEK)
Built for the Olympics in 2008, Beijing's Terminal 3 keeps pace with all the others on this list.
It's one of the biggest in the world, with 64 restaurants, 84 shops, and free (money-, not censor-wise) wifi throughout.

Admin

Admin




Messages

: 4881


Date d'inscription

: 31/05/2009



---
Permission de ce forum:
Vous
ne pouvez pas
répondre aux sujets dans ce forum